Lab. Chemicals

DUKSAN PHARMACEUTICAL INDUSTRIAL CO."1970 , Duksan started as "SAMSUNG CHEMICALS INDUSTRIAL" Moved is manufacturing pland to Youngin city, Kyungkido area.
Changed its name to "DUKSAN PHARMACEUTICAL INDUSTRIAL CO." Began producing high purity chemicals and opened a sales office in Seoul.Manufacturing Permission for Drugs was obtained.
Obtained Registration of Poisonous Substance Production.
Incorporated & renamed company name to "DUKSAN PURE CHEMICALS CO."
Obtained a trading license for both importing and exporting
Built 1st Ansan manufacturing plant
Developed the HPLC & Pesticide residue Grade solvents.
Selected PROMISING SMALL & MEDIUM-SIZED ENTERPRISES.
Developed & Produced 'ELECTRONIC GRADE SOLVENTS'
Developed & Produced 'DNA BIOSYNTHESIS SOLVENT'
Authorized license for ISO 9001
Authorized license for BGMP
(The Bulk Good Manufacturing Practice for Pharmaceutical)
Set-up distributor in China
Built the 2nd Ansan Factory
Authorized license for ISO 14001
Built Organic Stripper Recycle Tower for LCD process.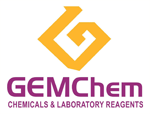 TIRUPATI's range of Chemicals and Laboratory Reagents include a portfolio of various LR, AR, ACS Grade Reagents, High Purity Acids and Solvents, Buffer Tablets, pH Indicator Solutions, Indicator Papers, Metals and Metallic compounds, Karl Fischer Reagents, Biological Stains, Ion Pairing Reagents, Clinical and Diagnostic Reagents amongst a wide range of other products.
These are marketed under the brand GEMChem™.
GEMChem™ Globally Harmonized System (GHS) of Classification and Labeling
Our GEMChem™ labels are designed to provide complete information on the details of the product.
On the labels, you will find:
Entire product name, code and description
Health and safety hazard information through pictograms
Batch number of the product to help you track online COA
Useful reference data like, CAS (Chemical Abstracts Service) number, risk, safety and other details; chemical formula and manufacturers details
Packing and Availability
Our range of Chemicals and Laboratory Reagents are available in various retail and bulk pack sizes. Additionally, we give our customers the option of customizing the packaging of our products as per their requirements.
To find a product, please use the search option by entering a product code, product name or CAS number. On our website you will find the available pack size, detailed specifications, COA andMSDS of each product.